Whilst down in London we went to the David Shrigley exhibition at the Hayward gallery on the south bank. The exhibition was called 'Brain Activity' and was a mix of printed work, sculpture, and animation. It was a really fun exhibition to look round and there were lots of little things that could have easily been missed if you weren't looking carefully. For example their were some tiny little pictures near the floor you had to bend down to see, a peep hole in the wall, and a random stuffed rat just lying on the floor in the corner.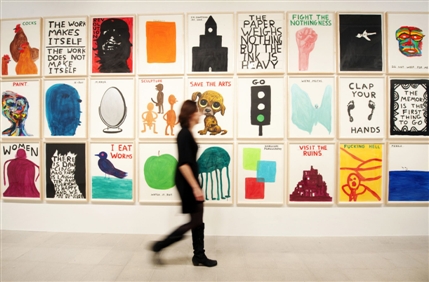 I think my favourite parts of the exhibition were the prints that were up; one wall consisting of big posters (above) and another two walls of smaller doodles that were really funny observations or pictures of objects with a line of writing to explain them. It was just really interesting to look around and see the different things he'd made, and it had a great sense of humour. Not that often you find yourself laughing in an art gallery.
I've posted a video below of David Shrigley talking about the exhibition, so check it out...