Whilst in London the other week, we went to the Pick Me Up graphic arts fair at Somerset House on the Thames, and this was the first exhibition I'd been to that most of the work seemed to be close to the sort of work we are all looking to produce as illustrators at the moment...if that makes sense.
There was work on show by lots of different people, some exhibiting as individuals and some as collectives, and a lot of the work was for sale. I saw some great work there, including stuff by Fernando Volken Togni, Matthew Dent, Dominic Owen, Tom Frost and Zim and Zou, and there was also a cool exhibition by the Pick Me Up artists in residence; Peepshow Collective. Their exhibition was titled 'The Museum of Objects and Origins' and featured all sorts of work, from wallpaper and prints on the walls, to objects and textiles in cabinets. Peepshow describe it as...
" Exhibiting items from an invented past, the collection is also a living, growing display as themed workshops create new works to fill the final few cabinets."
I've posted some images below of some of the artist's work, and also Peepshow Collective's exhibition (photo creds to their sites).
I have to say, some of my favourite pieces of work their were the stamps set by Tom Frost, and looking through some more of his work, I'm definitely a fan, so check out his blog to see what I'm on about, and I've also posted some pieces of his work that weren't at Pick Me Up below,... just because.
Tom Frost's work...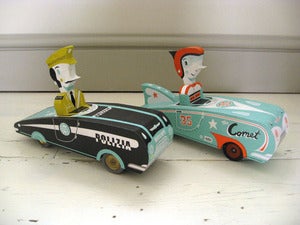 The hand made, screen prinited toy and 3D work of some of the best things I've seen in a while....seriously want one of those cars!